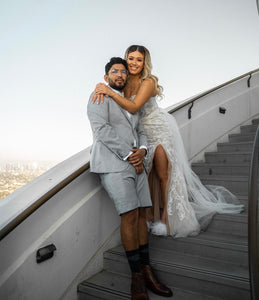 BRIDAL APPROVED
If you are a bride, we would love to be apart of your big day! So many beautiful brides have made us apart of their big day & we hope you will too. And no need to worry, you will be GLOWING, not orange.
Want your bridesmaids glow too? Host a tanning party so your crew can join in on the fun.🌹
CALL OR TEXT FOR MORE INFO
PREGNANCY SAFE
Since our solutions for our Quickie™️ & Affair™️ are both vegan, organic, & paraben-free, our spray tans are completely safe for mommies-to-be! So if you have a maternity shoot, baby shower, gender reveal, or just wanna get a nice glow goin' we'll be here for you!
We do recommend for our mommies-to-be to consult with their doctors before coming in. 👼
CALL OR TEXT FOR MORE INFO